About
Jose Alberto González, born in Valencia Spain, was qualified as Industrial Design Engineer in 2007, UPV.
From 2005 he started to collaborate in his father's studio Martin-Consuegra. In 2007 he started to work with various companies as product and space designer. In 2007 and 2008 he exhibited his personal projects at "Nude" in Valencia, where some International design magazines pay attention to his work. The Surface Magazine (NY) featured him as one of the most remarkable young Spanish Designers. His work was selected to represent Spanish design in International design exhibitions such as "Biennale Saint-Étienne" (France).
Since 2011 he moved to Japan to work as Senior Product Designer for Yamaha Corp. one of top global innovators corporations.
In 2015 June, after living in Japan four years, Jose González returned to Spain, and currently is Innovation and Creative Director at Zumex company.
His goal is make innovation happens. In his professional career has been working in creative teams, using tools such as "design thinking". Jose has studied at the prestigious IESE Business School "Promoting Innovation within your Organization" a Executive Education Certificate.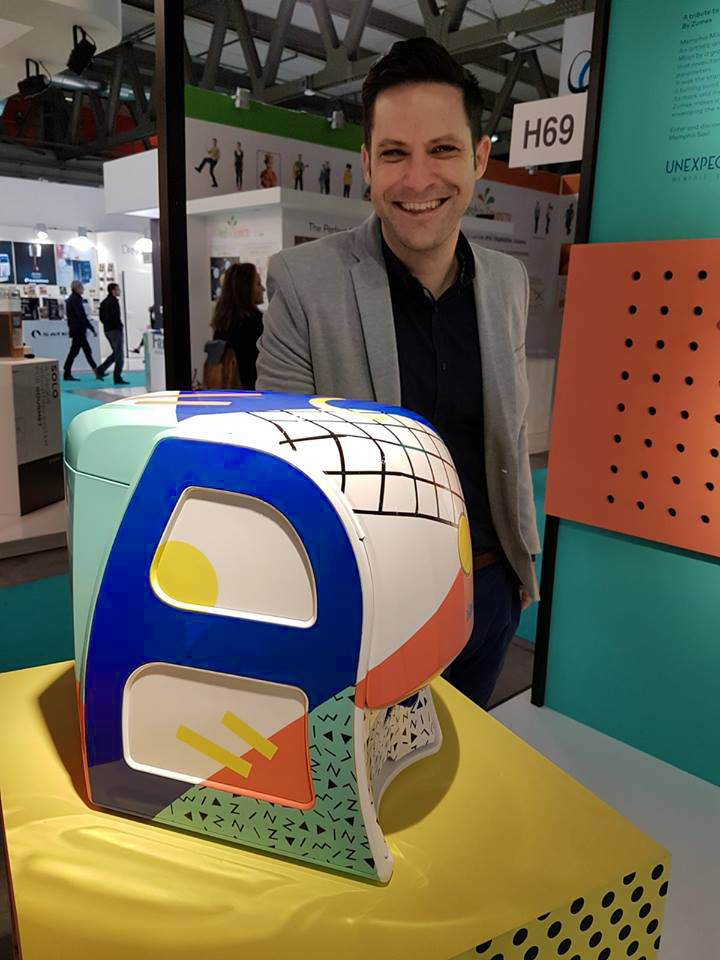 EXHIBITIONS AND TALKS
2018
Lecture. The case of Valencian Design, "European Parliament" Brussels, BELGIUM.
Lecture. Desarrollo de producto en mercados complejos, CEEI Valencia, SPAIN.
2017
Lecture. Design Thinking Process, "ValenciaLab" Florida Universitaria, SPAIN.
Radio Interview. Sábado Verde, "La Once Diez" Buenos Aires, ARGENTINA.
Lecture. Business Mindsets, "Blue Oceans" ELISAVA University, SPAIN.
2016
Guest Teacher at ELISAVA, Master in Research for Design and Innovation. Barcelona, SPAIN.
Lecture. #4SCD – Sevilla Indivisible Knowledge, SPAIN.
La Hora del Diseño. Group Exhibition, HONDURAS.
2015
Ah a May Project, Saint-Étienne Biennale du Design, FRANCE.
Ah a May Project, Frankfurt Messe, GERMANY.
La hora del diseño, Madrid, SPAIN.
Ah a May Project, Yamaha Award, JAPAN.
Two Yamahas One passion, Roppongi Hills Tokyo, JAPAN.
2014
Lecture. Escuela Superior de Comercio y Administración, Unidad Tepepan. Video conference MEXICO.
Design conversation at Shizuoka University of Art and Culture, JAPAN.
2013
Design conversation at Shizuoka University of Art and Culture, JAPAN.
2010
Saint-Étienne Biennale du Design, FRANCE.
Young Design Talent -Zaragoza Design Show (ZDS), SPAIN.
2009
Entrantes Valencia, SPAIN.
Creative Weekend Madrid, SPAIN.
2008
Nude. New spanish design, SPAIN.
2007
Nude. New spanish design, SPAIN.
PUBLICATIONS
2017
Economía3 Magazine, Florida Universitaria y Economía3 "round table", Jul. 2017
2016
Plaza Magazine, Oct. 2016
Yanko Design blog, Sept. 2016
2015
ID Mag. web, May. 2015
Proyecta56, Interview 7pages, Apr. 2015
Valencia Plaza blog, July 2015
2014
US patent D718374, Cp4 Stage, Nov. 2014
2013
Daysign p.36-41 n.3 Dec. 2013
Voice developer, Cp4/Cp40 Stage brochure p.17, 2013.
DissenyCV Blog, Oct 2013.
2012
Spanish ,p. 28 n.39 Spring 2012.
2011
Bolinguen (Berlinske, Danish newspaper) 2011.
Spanish ,p. 21 n.36 Summer 2011.
2009
Surface. NY, Sept. 2009.
ID Mag. NY,p.80 May 2009
Experimenta April 2009.
2008
Proyecto Contract p.51 n.54 2008.
AD (Sp) Nov.2008.
Designboom blog, Dec.2008
CasaBasic 2008.
2007
[Di4*] ed. CDICV. p.23 n.4 2007